The currency of the wizarding world.. which the depths of Gringotts guard.. The money you can earn if you wish to work as an Auror or set up a Joke Shop..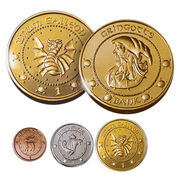 Basic conversion scale for Muggles who decided to read this blog post:
29 Knuts – 1 Sickle
17 Sickles – 1 Galleon
Order of increasing value:  Knuts-> Sickles->Galleons

Like us mortal Muggles, wizards keep their gold and other valuable in lockers in a Wizarding bank called Gringotts. This bank, situated in Diagon Alley stores the riches of ancient Wizarding families, with great care. Traps of various kinds are set up for intruders and trespassers who wish to claim what is not theirs.. Written at the entrance of Gringotts is a warning for magical folks. 
I still don't understand why magical people actually got scared of the warning. Like, you can do magic, right?
And rightly, the mad trio of Harry, Ron and Hermione actually broke into Gringotts. Not to rob money from there, of course. But to steal the well-concealed and well-protected Horcrux of Lord Voldemort. 
If only normal Muggle banks were protected by blind dragons who breathe fire. If only Muggle banks put Geminio and Flagrante curses on all the gold deposits. If only the touch of a goblin could open vaults. Wow! *_*
Stay tuned for tomorrow's post! It's my favourite character tomorrow.. a character from my own Hogwarts house!
~Potterhead-and-Ravenclaw