The mastermind of the Harry Potter series.. The one who could convert her negative energies into something mind-dazzling for the world to read.. The woman who can successfully lull billions of children all over the world to sleep, in a language of their wish.. The author who many of us try to emulate..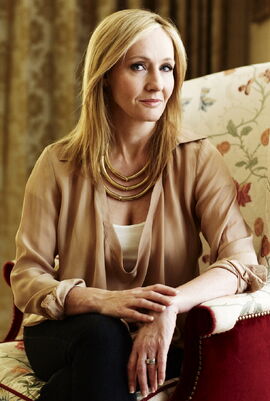 A writer is often inspired by what he/she goes through in life. And sometimes, is also inspired by the people in their life. The same could be said for JKR.
 As is pretty obvious, the character of Hermione Granger was fashioned upon JKR  herself (as a 11 year old.)When JKR was 9 years old, she used to write fantasy stories for her little sister. This is so cute! Also, Joanne was a Head Girl in school and  had received two A's and one B in the A-levels she took in English, French and German.
The Flying Car in the Chamber of Secrets was inspired by her bestie, Sean Harris', Ford Anglia!
The weird magical creatures called Dementors were a result of the tough time she went through after a failed marriage. Left with a dependent child and no source of income, she had contemplated suicide. We can only sigh in relief. The creator of Hogwarts and Harry Potter saved so many lives through her seven-book series!
And of course, the fatherly character of Professor Albus Percival Wulfric Brian Dumbledore was a facsimile of her Headmaster at school! Really, if we had Headmasters like Professor Dumbledore..!
Now, being known as the author of the Harry Potter series, the Galleon-filled-pocket-Philanthropist in her took over. She scribbled two Harry Potter books – Fantastic Beasts and Where to Find Them and Quidditch Through the Ages for a UK-based anti-poverty fund raiser, Comic Relief. She co-founded the Children's High Level Group (now Lumos) and the earnings from the sale of Tales of Beedle The Bard were handed over by her to this group. A staggering amount of 19 million pounds!
JKR is a classic example of her own quote,
"It is our choices…that show what we truly are, far more than our abilities."
She could have easily consumed the fruits of her labour. She could have easily enjoyed her life after struggling through it in the past years. She has the money, she has the fame, she has the power. No one would question her motives. After all, money earned rightfully can be spent, right? But, no. She used her experiences of the past to motivate her to help others. Knowing the pangs of poverty, she tries her best to ensure that not many children go through the same hell. As much as she brings relief to children via the Harry Potter series, she also tries to bring relief to them via her charitable work. She not only works as a Galleon-throwing-Santa for kids, but also as Madam Pomfrey for people suffering from Multiple Sclerosis.  In 2003, Rowling took part in a campaign to establish a national standard of care for MS sufferers(Scotland).  She is also a supporter of The Shannon Trust, which runs the Toe by Toe Reading Plan and the Shannon Reading Plan in prisons across Britain, helping and giving tutoring to prisoners who cannot read. 
All in all, this magical word weaver has won the hearts of many through her Harry Potter series and also through her philanthropic work. Being a billionaire doesn't affect her zest for uplifting the needy. Nor does it affect her ability to reply to tweets by fans! I just hope she replies to my tweet someday!
~Potterhead-and-Ravenclaw.
(Courtesy: Wikipedia)